Hottest cities for real estate
Here's a quick peek at housing by the lists: biggest price increases, best sellers' markets and most underwater homes.
By
Marilyn Lewis
4 hours ago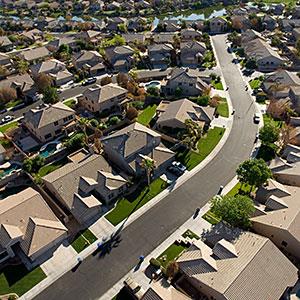 You might have thought you'd never see another top-10 list of hot real-estate markets after the housing boom's spectacular crash. Never say never.
Housing's coming back, mostly. It's creeping back in some places, leaping in others, but also declined in a few.
Here's a quick peek at housing by the lists: one list of the country's hottest markets, another of the best markets for sellers, and one more of states with the most underwater homes. The last is a reminder that, while housing is healing, it's not off the sick list yet.
Hottest cities
Seven years after housing peaked and began its perilous descent, prices are again growing in many cities.
FNC, a real-estate analytics company, follows prices
in 30 metros. On average, prices in those 30 cities rose 5% in 2012.
But the housing market's recovery is uneven. Phoenix and Denver are enjoying double-digit price growth over last year, yet homes in Chicago lost 0.05% of their value, according to FNC's index. Prices didn't move much last year in Baltimore, Chicago, Houston and San Antonio.
FNC says these 10 cities had the biggest home value increases in 2012. Here's the list, with the percentage of growth for each:
Phoenix, 22.8%.
Denver, 10.8%.
Miami, 8.7%.
Sacramento, 8.6%.
Detroit, 8.3%.
San Francisco, 8%.
Las Vegas, 7.9%.
San Diego, 7%.
Dallas, 6% .
Riverside, Calif., 6%.
The U.S. median home price rose 10% on average last year, the
National Association of Realtors says
. At the end of 2012 the median single-family home (not including new construction) was worth $178,900. It was $162,600 -- $16,300 less -- at the end of 2011.
The NAR follows prices in 152 metros. It says home values rose in 133 of those cities in 2012. Prices fell in 19 metros.
This was "the strongest year-over-year price increase since the fourth quarter of 2005 when the median price jumped 13.6%," says the NAR.
Hottest sellers' markets
There are plenty of ways to skin a cat when it comes to viewing real-estate values.
Zip Realty, a residential real-estate brokerage company, looked
recently at the best markets for home sellers.
Zip compiled its list by comparing listing (asking) prices for homes with selling prices in 32 markets. Here are Zip's top 10 markets for sellers.
San Francisco.
San Diego.
Sacramento.
Las Vegas.
Los Angeles.
Orange County, Calif.
Denver.
Tucson.
Portland, Ore.
Seattle.
Remember the amazing discounts homebuyers were getting for foreclosures in the recession? They're mostly history now, Zip says.
Discounts on foreclosures are just 12% today,
says FNC's Foreclosure Market Report
. That's about what foreclosure discounts were before the housing crisis began. At the depths of the crash, foreclosures were discounted by 25% or more.
States with the most underwater homes
The rising tide of home prices is bringing many underwater homes back into the black. Between
September 2011 and September 2012, rising prices pushed 1.4 million underwater homes into positive territory,
says the NAR
.
"Underwater," you'll recall, means a property that's worth less than its mortgage.
And yet, many cities and states still are plagued by the underwater mortgage problem. Even with home prices recovering in the "sand states" (Nevada, Florida, California and Arizona), which dominated foreclosures for years, three of those states top the NAR list of states with the most underwater homes.
Nevada: 56.9% (properties in negative equity).
Florida: 42.1%.
Arizona: 38.6%.
Georgia: 35.6%.
Michigan: 32%.
http://money.msn.com/home-loans/arti...-17910e900c2c#