Public pays for court clash over flats
By
David Fisher
5:30 AM
Saturday Jul 7, 2012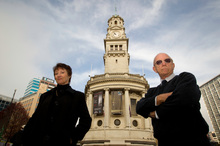 Judy Anderson and Adrian Chitty of the Pepperwood Mews Owners' Group have asked for rates relief as their units sit empty.Photo / Richard Robinson
Two public organisations are using public money to sue each other in a case which could cost taxpayers and ratepayers millions of dollars.
The case has been described as "destroying the savings and affecting the mental health" of a group of people whose retirement plans have been ruined.
They have been caught between Housing NZ and Auckland Council after the failure of the $8 million Pepperwood Mews apartment complex they funded. The scheme was an early public-private partnership using private money to underwrite a public project.
Those investors are suing Housing NZ, which helped plan, build and later manage the complex.
They are also suing the council because building consents were approved by building inspectors.
More in the Granny at
http://www.nzherald.co.nz/nz/news/ar...ectid=10817969