Zoned home sells for $700,000 above valuation
By
Anne Gibson
5:30 AM Wednesday May 25, 2011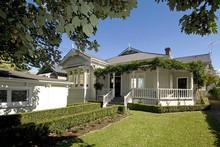 Expand

One family, who had been looking for a house for two years, said the sale price for 6 Bishop St eliminated buyers without stacks of cash. Photo / Supplied
Sky-high demand for Grammar-zone Auckland houses has resulted in soaring prices, with one $1 million home in Epsom selling for almost twice its valuation.
Barfoot & Thompson agent Joss Goodall said the $1.73m sale of 6 Bishop St, near One Tree Hill, was one example of what happens when a scarcity combined with low interest rates and rising economic confidence.
"It really started last year. Now, we've just had eight sales in the last three weeks," she said, citing a Greenlane townhouse with a capital value of just over $400,000 auctioned at $752,500.
"There's a real shortage of listings so people are paying over the top if they want double-grammar zone," she said of houses in areas automatically allowing entry to Auckland Grammar School and Epsom Girls Grammar School.
One Tree Hill and Onehunga were also "really starting to go".
She said an Empire Rd, Epsom, house which two years ago went for $1.2 million sold for nearly $1.6 million.
A house on The Drive sold for more than $2 million despite being on a busy thoroughfare, she said
A do-up in Sandringham's Ward Tce went for $715,000 pre-auction, she said - well over expectations.
Mt Eden, Epsom, Greenlane, Royal Oak, Sandringham, Eden Terrace, One Tree Hill and even Onehunga were all extremely popular, Mrs Goodall said, yet so few houses were going on the market that people were forced to pay so much.
Real Estate Institute figures show 4987 unconditional sales nationally in April and 1854 in Auckland.
The institute also noticed big price jumps from March's $470,000 in Auckland.
"The Auckland region recorded a new all time high median house price in April of $479,500."
Mrs Goodall said: "It's pretty hot. The central-Auckland market is not depressed. It's supply and demand and investors are back."
She cited cheap money, rising rents and landlords holding auctions to get top-dollar.
But one family who wanted the Bishop St house said the $1.7 million price tag breached standard bank lending criteria and eliminated buyers without stacks of cash.
"This is just ridiculous. This is not the first time this has happened to us," the unnamed family said, adding that they had been looking for a house for two years.
Valuers are also coming under fire for not keeping pace with a fast-changing market and the buyer said an Empire Rd house went $500,000 over valuation.
"People think we are crazy for not being able to buy a house within two years but the prices these houses are going for is insane," the family said.
Another couple told of similar problems in Herne Bay, where they struggled for 18 months to buy and eventually doubled their price range and paid about $1.9 million for a nice but basic family home.