$10,000 drop in house prices helping buyers
By
Anne Gibson
5:30 AM
Tuesday Apr 5, 2011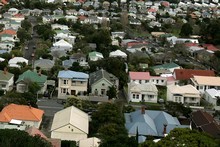 The national median house price is $350,000. Photo / Chris Skelton
House prices have fallen nationally $10,000 in the past three months, and affordability is increasing around the country.
Massey University's latest home affordability report, out yesterday, showed the national median house price was $350,000.
Queenstown, Auckland and Wellington are the most expensive places when house prices are matched to average wages and average mortgage interest rates.
Invercargill, Dunedin and Palmerston North are the most affordable.
The director of the university's real estate analysis unit, Professor Bob Hargreaves, said that in the three months to February Central Otago Lakes was the least affordable region, followed by Auckland and Wellington.
Southland retains its place as the most affordable region. Otago is in second place and Manawatu/Wanganui third.
Nationally, home affordability improved in the quarter by 5.2 per cent.
Professor Hargreaves said the figures were good news for house buyers as mortgage rates went down and wages increased.
See more in the Granny
http://www.nzherald.co.nz/business/n...ectid=10717105