Auckland houses less affordable than New York
By
Anne Gibson
5:30 AM
Monday Jan 24, 2011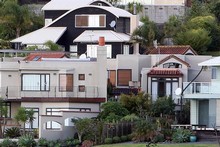 Low incomes put buying a home out of the reach of many. Photo / APN
New Zealand houses are among the world's most expensive when incomes are taken into account - and Auckland and Tauranga homes are less affordable than those in New York, says a major survey released today.
Low incomes and high house prices are leaving Kiwis badly off and preventing many from climbing onto the housing ladder.
The seventh annual Demographia International Housing Affordability Survey of 325 cities and regions has given us the thumbs down, putting New Zealand alongside Australia, Britain, the United States, Canada and Ireland as among the world's worst housing markets.
Four of the eight New Zealand markets surveyed - Auckland, Tauranga, Christchurch and Wellington - were classed "severely unaffordable". The other four - Hamilton, Napier-Hastings, Palmerston North, and Dunedin - were "seriously unaffordable".
Despite three years of a depressed economy, housing remains out of many Kiwis' reach. The situation has worsened because house prices fell only marginally yet job security lessened and wage rises dried up. ..........
Read more at