Head to Portugal for your holiday home in the sun
Prices in Portugal are down less than in neighbouring Spain, but pick your spot carefully. Graham Norwood is your guide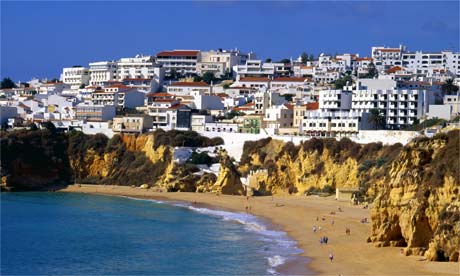 Buying in Portugal is much more complicated than in much of mainland Europe. Picture: Corbis
Britons seeking a bargain holiday home in the sun may look to Spain or France, but they shouldn't ignore one of Europe's more salubrious locations. If you reckon
Portugal
is merely an upmarket version of Spain, think again; it has a different philosophy to its Iberian neighbour.
In 1993, laws were passed to restrict overdevelopment in designated coastal areas, mostly on the Algarve in the south, so demand sometimes exceeds supply. Although prices have been on a rollercoaster, they have fallen less than in any part of Spain.
By far the most popular holiday home area is the Algarve, due to its 280 days of sunshine a year and because large numbers of budget flights access nearby Faro airport. But that makes it Portugal's busiest region, too.
The Estoril coast south of Lisbon is also popular, while the northern coast is increasingly in favour.
Foreigners tend to buy new homes, which are generally of a higher quality than in Spain. Expect to pay €120,000 (£104,000) for a small apartment (twice this for a sea view), and €1m for a family-sized detached villa near a beach.
Brits considering the Algarve should bear in mind that, historically, it is a region where
property
prices have seen much more dramatic ups and downs than the wider national market.
Go back to the 1960s and the Algarve was visited only by small numbers of Portuguese holidaymakers, but by the end of that decade, luxury hotels and golf courses began springing up. In the early 1970s it was popular with British holiday and retirement home buyers.
All development came to an abrupt halt after the 1974 revolution, according to Dr Michael Ball, the author of an annual
Royal Institution of Chartered Surveyors review of European housing markets
. "Investors lost a fortune and tourism to the Algarve practically ceased by 1975," he says.
The pace of development went back into overdrive in the late 1980s, with well-heeled British buyers flocking there. Algarve prices plummeted in the early 1990s and shot up again at the end of the decade, before another dive in 2003.
The
Global Property Guide
website reports prices in the Algarve fell 4.4% over the 12 months to last September, after a tiny rise in 2007 and a 6% increase the year before. Looking at Portugal as a whole, prices slid 4.8% in the year to last September, with the Alentejo and Centro regions hit hardest. "With the economy hurtling into recession, the Portuguese housing market is expected to continue its downward price spiral until end-2010," says the site. Some potential buyers may see that as good news, others as a reason to steer clear.
Buying in Portugal remains more complicated than in much of mainland Europe. First, you need a tax card and number from the local council in the area where you wish to buy, and you must nominate a Portuguese address for documentation; usually the selling agent will act as this contact. Second, very few Portuguese finance houses lend to foreign buyers, so most Britons must arrange a mortgage at home. Third, many flats – especially those built before the legal changes of 1993 – are run by residents who set up committees to organise services like cleaning and maintenance; so it can be hard for foreign-based buyers to get involved. Set aside 2% of the purchase price for legal fees and 1% for Portuguese land registry charges. Add 1% each for turning on utilities and arranging a Portuguese mortgage. Stamp duty can be 7.5% if you buy at an auction, and there is transfer tax on secondhand homes of up to 10%.
The Portuguese estate agency profession is regulated, so individual agents are more qualified and more professional than in Spain, but charges are unregulated – when you come to sell, the commission can be a whopping 10%, though you can haggle.
Most agents list properties by square-metre floor size; some include outdoor patios and some don't, so check to make true comparisons.
All mortgage debts and local taxes are property specific. This means the previous owner must clear them before you buy, otherwise you inherit them.
Anyone wanting a pure investment and long-term tenants (professional renters, not holidaymakers) should furnish their properties, but remember there is little demand in resort areas, so stick to Lisbon and Porto.
•
Gallery: Homes in Portugal
http://www.guardian.co.uk/money/2009...l-holiday-home